SentiSystems AS focuses on unique NTNU technology for autonomous systems and robots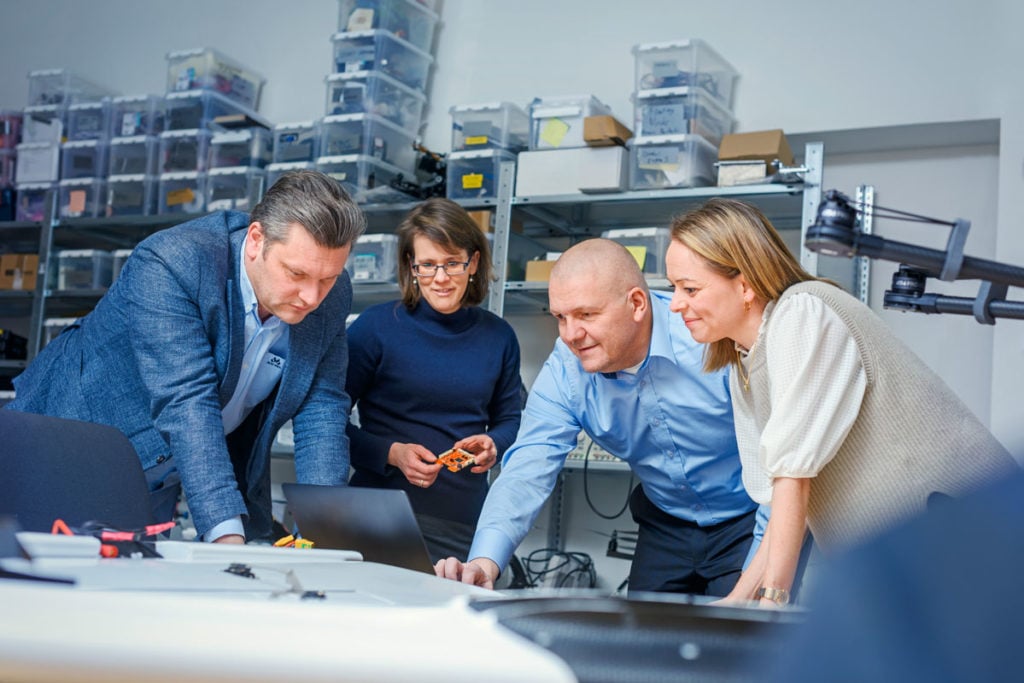 SentiSystems raises 14 MNOK from a star team of technology investors and the Research Council to hire the best heads.
SentiSystems is based on world-leading research on autonomy at NTNU's Department of Technical Cybernetics and the Center for Autonomous Maritime Operations and Systems, AMOS. The company has received start-up assistance from NTNU Technology Transfer and the investor communities SINTEF Venture, ProVenture, Periscope AS, Magnum AS, and Trondhjem Preserving AS to Innovation Norway and the Research Council of Norway. SentiSystems will deliver technology for various autonomy and robotics solutions in an international market. The company is positioned for further development and growth and will secure the best heads with the financing.
SentiSystems has created a framework for handling sensors used in the autonomous and robotic systems of the future. There is a driving trend in the market as the number of sensors increases sharply. The technology enables full utilization of advanced sensors and integrity monitoring of the sensor park to improve accuracy, safety, and security. This forms the basis for safe self-propelled drones, ships, trains, cars, and accurate mapping. SentiSystems has tested its unique technology with another Airbus and is now working with several international customers and local autonomy locomotives such as Maritime Robotics and Zeabuz. Customers say that the exact data from SentiSystems technology is crucial for developing algorithms and sensor systems for precise situation understanding autonomous vehicles and robots.
– This is an important milestone for us and proof that our technology is very interesting in an internationally growing market. Our investors have long and valuable experience from the development of technology companies, and we look forward to the collaboration, says General Manager of SentiSystems Arne Kjørsvik.
– SentiSystems represents a technology and an industry where both NTNU, Norway, and Trondheim are good and have a competitive advantage. Autonomy is the key to increased resource efficiency in many industrial verticals. We want to contribute our experience and capital as we see adventurous growth opportunities, says Senior Partner Borgar Ljosland in ProVenture.
– For us, this is a perfect case where we have world-leading research from NTNU combined with a megatrend where autonomy becomes important in all vessels. With our technology experience and long-term perspective, we look forward to helping to realize this, says Investment Manager Eli Grong Aursand in SINTEF Venture
– We have worked with the team for 3 years and are impressed with what they have achieved with the technology licensed from NTNU. It is a seal of quality to include leading Norwegian investors who have the knowledge and willingness to invest in research-based companies, says Susanne Jäschke, Chairman of the Board and Innovation Manager at NTNU Technology Transfer.
NTNU Technology Transfer has assisted the NTNU team with securing and licensing technology, business development, financing, and recruitment.
For more information contact:
– Arne Kjørsvik, General Manager SentiSystems AS, arne.kjorsvik@sentisystems.com, +47 932 02 013
– Susanne Jäschke, Chairman of the Board of SentiSystems AS, susanne.jaschke@ntnu.no, +47 936 58 814
About SentiSystems:
SentiSystems is a spin-off from NTNU AMOS and develops and sells a unique solution for real-time sensor fusion for autonomous systems such as drones, boats, ships and cars. The technology is licensed from NTNU Technology Transfer and has an international market.
About ProVenture: ProVenture is a seed investor with a focus on unique enabling digital technologies, resource efficiency and the energy transition.
Contact: borgar@proventure.no, +47 95051423
About SINTEF Venture: SINTEF Venture V is a seed / early-stage fund with an investment capital of MNOK 500. The fund is an important tool in the commercialization of research results, and invests primarily in companies that are spun out of SINTEF. Both national and international investors are members of the fund.
Contact: eli.aursand@sintef.no, +47 995 91 539