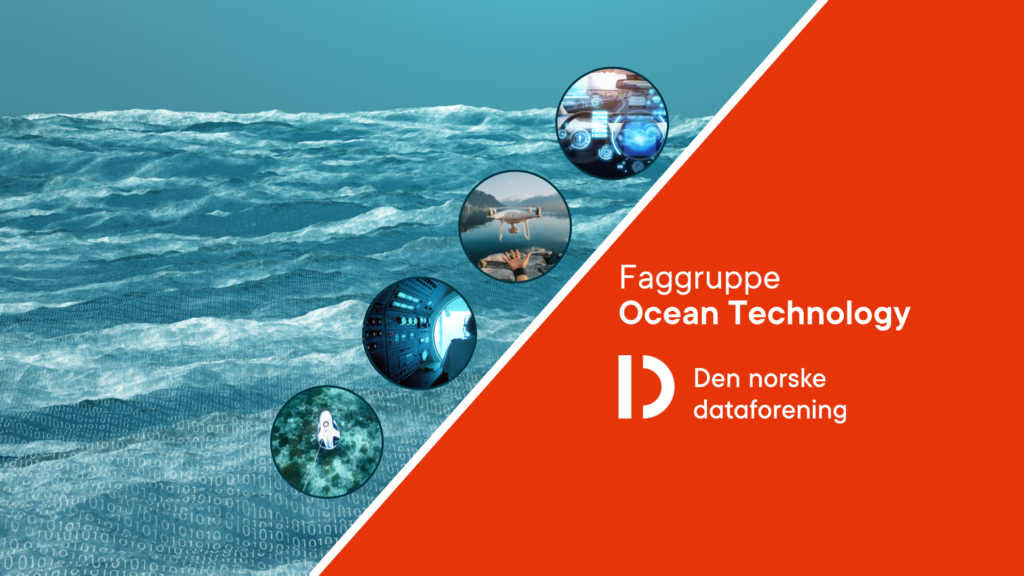 It's with great pleasure that we announce our cooperation with the Norwegian Computer Society (DND – Den norske dataforening)!
Together with Maritime Robotics and DND, we have discussed the possibility of a DND subdivision to focus on the ocean, technology, and maritime technology. The result of these discussions is a new DND subdivision called Ocean Technology. This will be a platform for people who are interested in ocean technology, and all of the possibilities the ocean provides.
DND is a non-profit organization that focuses on IT and Technology. It is run by volunteers who have a passion for technology and want to create a meeting place for like-minded people. They are Norway's biggest organization for IT professionals and people who have an interest in IT. The organization is divided into many sub-groups, where people have the chance to indulge themself in topics of their interest. As of today, they have more than 50 different groups on different subjects. Some of the subjects involve AI, Robotics, Business Intelligence & Analytics, and now also Ocean Technology.
We had an interview with Eirik Kristiansen, Chairman of DND's Midt-Nord department, to talk about Ocean Technology:
Could you tell us some more about the Ocean Technology initiative?
— The initiative was started between Ocean Autonomy Cluster (OAC), Maritime Robotics, and DND. It was OAC and Maritime Robotics who started the conversation regarding this group. Trondheim has an incredible amount of technology being developed here. Especially the environment on autonomy and ocean technology makes Trondheim an exceptional place for developement of ocean technology.
Why is DND supporting this initiative?
— We are eager to develop an arena where Trondheim, and all of the technology developed here, can be in focus. Technological development is an essential part of autonomy and ocean technology, and we think it's a given that we contribute to creating content and places for discussion. Being able to create a platform where different partners, students, and organizations can discuss opportunities and ideas, is beneficial to all parties involved. There are a lot of exciting companies, activities, and initiatives going on in Trondheim. Together with SINTEF and NTNU, Trondheim has become a world-leading test arena for ocean autonomy.
What kind of activities would you like to see happening with Ocean Technology?
— We are hosting our first-ever meeting on the 17th of March. This will be an intro meeting where we will introduce ourselves, the ideas for this sub-group, and start getting to know interested parties. For the future, I hope we can grow into a really big division where we have a lot of interest. Hopefully, we can put together conferences and other big happenings. Also, I hope we will be able to show the technology being developed here. There are so many companies that are producing hands-on products, it could be really cool to showcase these. We have a lot of ideas!
Who is the Ocean Technology group open for?
— Ocean Technology, and all of the other sub-groups, are open to everybody! Not only companies and members, but everyone who has an interest in ocean technology is welcome to our events. We are also hoping that we can collaborate with Ocean Autonomy Cluster to reach students. There will be no fee for students to join, and we want to engage students, so they can get curious and take an interest in ocean technology early.
After talking with Kristiansen it was very clear that we are able to reach even further together. In collaboration, we can gather dedicated people and build a better foundation for collaboration between the industry and people who have an interest in IT. We are looking forward to starting working with DND and Ocean Technology.
If you are interested in hearing more about the collaboration and plans for the future, check out our event on the 17th of March. Hope to see you there!