Clean Sea Solutions, our newest cluster member
Clean Sea Solutions is a Norwegian startup that develops stationary and autonomous solutions to clean up rivers, river mouths, canals, marinas, harbors, and other (urban) waterfront areas to prevent and reduce the inflow of plastic waste into the oceans.The idea started out from the following problem description:
UN has described marine pollution as the fastest growing environmental problem in the world. Estimated between 4,8 and 12,7 million tons of plastic waste currently enters the ocean every year, the equivalent of a truckload every minute throughout the year. When the plastic waste reaches the seas, up to 94 percent (WWF, 2018) will sink to the seabed and over a longer period of time break down to micro-plastic particles. It is therefore essential to take measures to prevent the inflow of plastic waste before it reaches the open oceans.
Based on this issue, CSS are developing innovative solutions to reduce and prevent the inflow of marine plastic waste into the oceans. They have so far developed the following two devices:
1. The Clean Sea Aqua Drone is an all-electric, autonomous floating waste-collecting aqua-drone, using a combination of computer vision and remote sensing – i.e. ultra-sound and/or LIDAR with appropriate filtering and prioritization for avoiding obstacles and waterborne vehicles. The Aqua Drone has onboard waste storage. Upon finishing the mission, the Aqua Drone returns to its docking location and safely self-dock for emptying the trash bin and recharge. The first pilot of the Clean Sea Aqua Drone is scheduled to be launched in the Port of Oslo / Oslo City during 2Q of 2021. Further development and testing will take place throughout 2020 and 2021.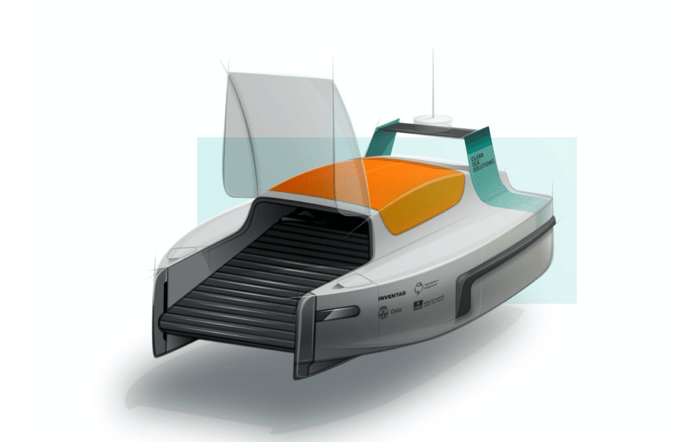 2. Clean Sea Flexi Pod; A flexible and attractive modular floating docks with built-in autonomous waste collectors and internal collection pools. It can be combined with existing floating devices or operated independently. Trash flows from around the pod into internal collection pools with waterfalls created by electric pumps emptying the pools for water. We will start prototype testing in June-July 2020, and the product is estimated to be ready for the market from the second half of 2020.
We look forward to see what Clean Sea Solutions can accomplish, and are happy to welcome them to the cluster.